Is Intersession Really For All?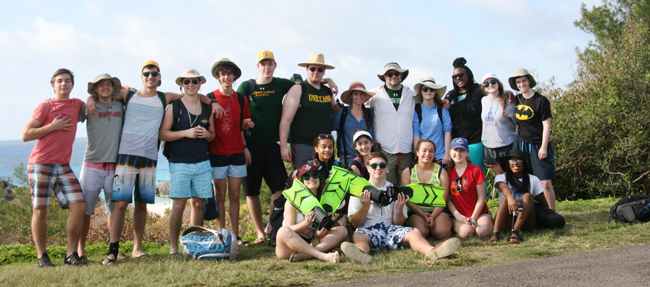 Intersession is undoubtedly one of Sandy Spring's most cherished traditions. While there's Community Day, Earth Stewardship Day, and Senior Buddies – all of which enrich our experiences at SSFS – nothing seems to bring as much excitement to the Upper School community like Intersession does. It's an opportunity to explore a new place, spend time with classmates and teachers, and, for many, travel internationally for the first time. I say "for many" consciously not because many have already traveled internationally, but because, while often overlooked, Intersession really isn't for all. After freshman return from Florida, a clear divide is formed between those who can afford to go on more expensive trips and those who cannot.
While, of course, everyone may participate in an intersession, many are limited to where they can go. Typically, students will do a service trip, a domestic trip and an international trip. But, for a smaller group of students who aren't as economically privileged as many at SSFS, Intersession can pose a financial burden to their family. When parents have to prioritize where they spend their money, sending their kid on a school trip may be low on their list of priorities.
According to the SSFS financial aid policy, students receive the same percentage of financial aid for their intersession trip as they have for their tuition. While financial aid is applied to Intersession, economic circumstances can change and the money given often isn't enough to make the experience worth the financial stress. Wes Livezey '18 described the factors he considered as he selected an intersession trip this year. He said, "My family was in a much better financial position at the beginning of the year but circumstances changed and now the amount of aid I was given, couldn't compare to the amount that I needed to cover an international intersession." Sandy Spring does an exceptional job at giving financial aid to students and providing opportunities to people who might not otherwise have them, but there are students who, in spite of this, still don't have the means to go on an international intersession. Those are the students who deserve to have these experiences most. Instead of providing experiences to people who already have access to them, a focus of Intersession needs to be aid to students who wouldn't otherwise be able to have such an opportunity.
One of the most debated concerns with Intersession are the decisions made regarding students getting a second international trip. Despite people's complaints about prioritization of some students over others, what many don't realize is that many of their classmates can't even afford to go on their first. "It can be really polarizing to see everyone around you applying for trips without thinking about the cost when that's all that comes to mind for lower income students,"  said Wes Livezey.
SSFS requires students to participate in a service trip because one of the most fundamental Quaker SPICES is Stewardship. Yet if we are focused on community values, why is Equality not similarly implemented? If we force students to go on a service trip why don't we make it so that everyone has an equal opportunity to travel internationally? What message does this send? If these are our most fundamental values, we can't devalue one and overemphasize another.
There are few things that make Sandy Spring as special as Intersession. In essence, Intersession makes the world our classroom. We're one of the few, if not only, private schools in the D.C. area that takes out time during the school year to travel. It's a privilege, regardless of one's economic status, to have something so special built into a school curriculum. With that said, maybe we need to reconsider equity and Intersession.

About the Contributor
Amelia Reuben, Co-Editor-in-Chief
Hi guys! I am so excited and honored to serve as Co-Clerk this year alongside Samaa. I got involved with journalism when I joined my school's yearbook...