Varsity Softball Wins PVAC Banner in Second Season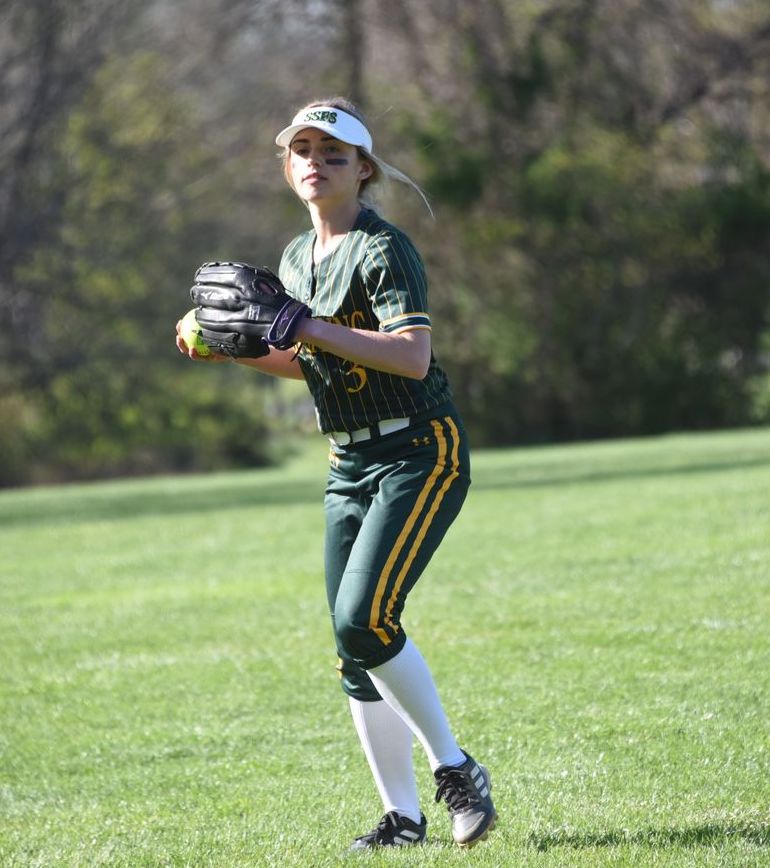 If one word could describe the Sandy Spring softball team, it's "new." The first thing spectators will see as the SSFS team strolls onto the field is a snazzy head-to-toe combination of green, marigold, white, stripes, letters, and multicolored cleats. The team is unrecognizable compared to last season's jersey, black pants, and stirrup socks.
The next thing spectators see (or hear) is coach Aimee Farley, cheering and yelling from the sidelines. While Aimee is one of 3 new coaches this season, this is not her first time coaching some of the players, nor coaching softball at Sandy Spring. Players on the team who played in middle school got the opportunity to be coached by Aimee once again this season. Assistant coach Barbara von Salis has experience on the field as both pitcher and catcher. She brings a peaceful approach to coaching, except for when she suggests "Kill, Quakers, Kill!" as a potential fight song. Assistant coach Shamika Murray, soon-to-be Director of Enrollment Management, has never coached softball before, but that does not stop her from bringing great enthusiasm onto the field as first base coach and sunflower seed connoisseur.
Along with new coaches, there are 5 new players on the field this year: Karma Lew (9), Briana Osei (11), Julia Roach (9), Kaiden Iskyan (12), and Ziv Stuart (9). Manager Greta Garrettson-Taylor (11) also joined this year, and deserves recognition for her constant battle with a slightly-dysfunctional scoreboard at nearly every home game.
The season started out tough. A series of canceled games, including a canceled trip to Philly for games against non-conference teams Shipley and Friends Central, left players, fans, and coaches wondering when the season would finally begin.
The season began with a win against Spencerville, then against Bullis, Berman, Charles E. Smith Jewish Day School (JDS), and Edmund Burke. The team only lost once during the regular season in a nail-biter against McLean, who they did not play during the championship tournament. Ultimately, Sandy Spring walked away from the regular season as PVAC League Champions.
Heading into the playoffs first in the league, the team got a bye from the quarterfinals and played the semifinals against Berman Hebrew Academy, where they won 3-1 in a hard fought victory. After a couple of 0-0 innings, Berman scored in a play described as "haunting" by Coach Aimee and stayed in the lead for an uncomfortable couple of innings.
After winning the semis, Sandy Spring faced JDS in the finals. The Beests faced a difficult game, with pitcher Emma Doty (12) removed from the field after injuring her wrist while diving for a ball. Njandee Murangi (12), usually on first, stepped up to the mound for a high-pressure game with a large audience. In the end, the team lost 12-7 but played an engaging, and sometimes intense, game.
Though a successful season, this is a bittersweet end for many players on the team. Seniors Rachel, Njandee, Leila, Grace, Jamie, Emma, Kaiden, and Gillian graduate from SSFS and, for some, softball all-together. Though it is difficult to lose a majority of the team, players and coaches alike are ecstatic to find out what the team will look like next year.