This Stinks: Interview With Laura Miyoshi Reveals Troubles with Trash at SSFS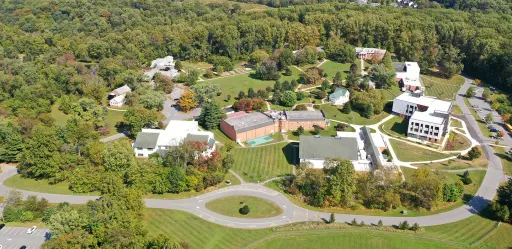 According to the school website, Sandy Spring Friends School "prepare[s] students to create a sustainable future" on our campus. Its philosophy is rooted in integrity, responsibility, and stewardship of the environment. In an interview with Chief Operations Officer Laura Miyoshi, she recalled the accolades our green campus has received from the Department of Environmental Protection. In 2013, students built an electric car and created a video to instruct MCPS students on recycling.
But like our campus that's almost reliant on renewable energy sources, and the oil-centric commuting most SSFS families take part in, our school still has a long way to go towards meeting the standards it sets for itself. To put it bluntly: we are not holding up our end of the deal as students and stewards of the campus.
If one word could describe our situation, it would be "trashy." Since the pandemic, Laura explained, landfill pickups have increased from 2 per week to 6 per week. Not only that, but the number of dumpsters used in these pickups also had to increase in order to accommodate the extra trash accumulated during our return to school in 2021. This means that our weekly garbage has more than tripled in the past few years, and will continue to do so without our community taking initiative to stop it. Some waste reduction strategies have been implemented already, like transitioning from fruit cups to fruit bowls, and replacing packets of soup crackers with a bowl of unpackaged crackers. However, these changes are small compared to the changes that would be necessary in a community-wide effort to reduce our footprint.
Other than the dining hall, Laura cited the packages received by staff and those living on campus as the single biggest contributor to our waste issue. She worries that "Amazon has become a culture," and that she has seen an ever-increasing number of packages in the mailroom "just because we can order something." Many believe that, since it is recyclable, cardboard is "eco-friendly." Unfortunately, it is not. For one, any recyclable material must be produced, transported, and later processed after use. Reducing the amount of cardboard used overall would also decrease the energy and other resources we are using. Additionally, much of our cardboard is not being recycled. Often, Laura said, the recycling company simply "won't take it" due to contamination in the recycling bins. "Most of the cardboard that's going to the recycling centers in these… 'combos' are not being recycled" due to contaminants like oil and grease. The only way to be sure that cardboard gets recycled is to keep a careful eye on what ends up in the cardboard recycling. Laura proposed a student group that will "take all your boxes, break them down, stack them up separately, and recycle them." Until a complete change in recycling habits occurs, this is one of the best ways we can be sure our recyclables are actually being recycled. However, Laura hopes the cardboard recycling program can also give students enough involvement to "be a little more cautious about what goes in the three bins." Not only would students who participate in this program be decreasing our environmental impact box by box, but they'd also be contributing to a culture shift of stewardship. They could also get some very convenient service hours.
Cardboard or not, contaminated recycling is a major concern for waste management on campus. Even as we're putting an increasing amount of waste into landfills, "we're not putting out as much recycling, even from what we think we're doing." Laura confirmed that, no matter how few, if people throw non-recyclables into the recycling bin, the entire bin cannot be recycled. This is something not so easily solved by a cardboard task force. In this case, positive peer pressure may be the solution. Laura hopes that staff and older students are able to set an example for newer and younger students. Perhaps that awkward question about why someone is throwing away their food into the trash bin instead of the compost is worth asking in the long run. Laura also stated that she hopes to implement the Upper School three-bin system throughout the entire campus.
While the amount of waste in the landfill and contaminants in the recycling has increased, compost has decreased just as fast. Laura recalled when "we used to compost 65,000 pounds of food waste every year." And now? "We're probably at a third of that."
As grim as the waste issue sounds (and it is), there is still hope for the future of SSFS. Laura thinks "education is huge," and proposes increased education on recycling, composting, and stewardship. She hopes for the school to return to composting and recycling more than we're throwing away. She also hopes that, in 5 years, the school grounds will be trash-free. She has already made progress towards this goal- as those who have been on the fields this spring season may have noticed trash bins near the stands. Again, this is something that requires the commitment of every member of our community.
Both Laura and the clerk of the Environmental Stewardship committee, Caitlyn, emphasized the importance of community involvement. Hopefully, this article is another step towards a cleaner future for SSFS.