Recent Surge in Antisemitic Acts in the DMV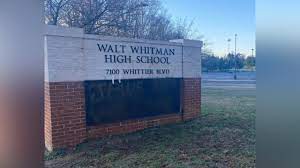 Our nation has seen a recent spike in antisemitic acts committed, specifically in the Mid-Atlantic region. Many Jewish families now feel a higher level of endangerment within their own neighborhoods, communities, and homes. This influx has prompted beloved Rabbi Noah Diamondstein from a local D.C. synagogue, Temple Sinai,  to send out a letter to the members of his synagogue,informing the community of the continued acts of antisemitic hate in Montgomery County Public Schools. For example, antisemitic drawings were discovered at three public schools in one week, and antisemitic flyers were left on the porches of members of Temple Emanuel in Kensington.
 He announced that the JCRC and the Jewish Federation of Greater Washington are offering a reward for information that could lead to the identification and arrest of the people who committed these anti-semitic acts. The rabbi stated in an email to the temple, "the best response to antisemitism is to engage with your Jewish community loudly and proudly." Many Jewish people's pride becomes damaged due to this hatred, and this message was intended to discourage that. Temple Sinai formed an antisemitism response team in order to offer support to all members of the Jewish community. 
Jews are consistently the most targeted religious community in the U.S. and antisemitic incidents are being reported at record levels. The Walt Whitman High School sign was vandalized with the antisemitic graffiti, "Jews Not Welcome", two nights prior to the first night of Hanukkah and during Shabbat. Also around November 14th, the Bethesda Trolley Trail was vandalized with the words, "No Mercy for Jews", along with the image of three people hanging from a noose, swatstikas, and white power symbols. 
This has shocked the Jewish community in our area, especially since Bethesda holds a large jewish population. This sparks the question of if a high Jewish population dims or ignites antisemitic acts. It was reported that New York has had the highest number of antisemitic acts in the past two years compared to any other state. New York having one of the largest Jewish populations in the U.S., possibly shows that you are more vulnerable to antisemitism if you are within a highly populated Jewish area. 
Swastikas were found drawn on the desks of three separate Montgomery County Public Schools in one week in January. In addition, on January 22nd, Antisemtic flyers were left on synagogue members' porches in Kensington. Anti-Defamation League Regional Director Meredith Weisel stated that her organization is familiar with the specific images in the flyers and believes that the Goyim Defense Team is responsible for them. The Goyim Defense team is a group of members connected through their antisemitism,operating GoyimTV, which streams antisemitic content. The GDL engages in antisemitic stunts and schemes to troll or otherwise harass Jews. A common misconception is that antisemitic acts aren't occurring as much as they used to, but this is definitely not the case. There has been a recent spike in antisemitic acts in the DMV that threatens Jewish peoples' safety and well-being.