Two Sides to Hockey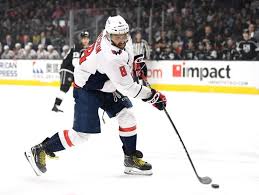 I've asked many people what comes to mind when I ask them about hockey and it almost always seems to be "fights." This is a direct contrast to my many positive experiences watching the sport. Since I was a child, hockey games have always been a safe haven for me. I've stepped into the arena to watch the game, and my anxiety melts away. It brings people together, not to dispute or fight, but to enjoy the moment. The sense of community and togetherness is unlike any environment I have otherwise experienced. However,  I have begun to understand this is not what everyone sees in the sport.
The commercialized fights that supposedly embody the sport, happened in only 17.86 percent of games in the 2017-2018 season according to HockeyFights.com. The league also continues to decrease the amount of fights each year as modifications are made to rules within the sport. For example, in 1996 the NHL further increased the repercussions associated with the penalty known as The Instigator Penalty. The official rule regarding this penalty now reads:  
Any player who instigates a fight beyond the 55-minute mark of a game will receive minor and major penalties, a game misconduct and a one-game suspension. Suspensions will double for each additional occurrence. In addition, the player's coach will receive a $10,000 fine, which also doubles for additional incidents.  
This rule change discourages fighting in the modern day sport by providing more severe consequences for major offences. Whereas, when the rule was first established in 1937, it  simply read "A Major penalty shall be imposed on any player who starts fisticuffs." Due to the lack of specificity in the degree of punishment, the penalty was rarely called at the time. However, as it has evolved it has become regularly regulated, discouraging fighting.
Many may assume that hockey players are as violent off the ice as they supposedly are on the ice. However, as the National Hockey League has continued to grow in popularity, the positive impact of these players has continued to reach more and more people in the local communities. By sponsoring organizations such as Make a Wish America, which support minority groups and people in need, the players are taking time out of their days to make a difference in the world around them.
An example of such sponsorships are the annual "Hockey Fights Cancer" practices by every team. Every season, all National Hockey League Teams partake in wearing purple warm-up jerseys once to twice a year, which are later auctioned off to raise money for childhood cancer research. Each team also has their own unique activities they use to support this cause. For example, the Washington Capitals host a skate session in which each player is assigned to a child either currently battling cancer or who has battled cancer to skate and play with.
In 2016, a special relationship was formed during the annual skate. Young, now ten-year-old Addy Flint was paired with Right Wing T.J. Oshie. Since two years ago, they have maintained a strong relationship. Oshie emails her family for updates on her health regularly and takes time to meet with her frequently after practices. She is quoted saying, "He's not just a hockey player, he's more than that. He's more of like a friend."
Another way in which the players reach out to nearby communities is creating their own organizations to give back to the community. An example of this is a foundation created by Boston Bruins center, Patrice Bergeron, entitled Patrice's Pals. This organization gives ill children in Boston-area hospitals the opportunity to attend home games in a VIP luxury box in the arena. Bergeron is quoted saying "You know, it's definitely something I do, first and foremost, for the kids. I like to be involved, but I definitely don't do it for the awards."
Many of these players not only give back to their local communities, but also are fathers and family men. As an example, after winning the Stanley Cup or the most prized trophy in the NHL, Washington Capitals, Right Winger TJ Oshie, broke down into tears talking about his father who is currently battling Alzheimer's disease. He broke down saying,  "This one will stick with him forever. You can guarantee that."
Since then and prior to that time, he and his family have supported causes related to ending the deadly disease. For example, in 2018 as the Walk to End Alzheimer's on the National Mall was coming up, Oshie and his family teamed up with family of Capitals defensemen, John Carlson, to give fans an incentive to donate to the Alzheimer's Association in the form of Capitals themed prizes, such as tickets to games and chances to meet the players. The efforts demonstrated by not only Oshie but Carlson, as well represent the love and dedication these players have for their families and local communities.
Hockey has continued to be portrayed as a violent and brutal sport despite many rule changes and a decrease in the rates of fighting overtime. The men who play this sport not only consistently give back to their local communities, but also care a great deal for their families and are just average fathers. Through their sponsorships with local organizations and their own creation of new ones, they are truly positively impacting their local communities, as well as devoting free time they have to their families. Through these actions, they prove the violent stereotypes about the sport and its players wrong and fight for love.