Fueled To Win
For professional athletes, food is as important as training. Nutritionists take an important role in helping them take in what their bodies need for top performance. Athletes have different needs, depending on their sport. At the University of Alabama, Director of Sports Performance Amy Bragg makes certain athletes not only eat well but eat what their bodies need to perform their best. Fifty-three Division I NCAA teams now also have nutritionists on staff.
A look at what recent Olympians eat shows the variety of food needed to be on top. Skier Mikaela Shiffrin, an Olympic gold and bronze medalist, eats a breakfast of two eggs, two pieces of toast, and some fruit. In a statement, she mentioned, "I rely on breakfast to give me a kickstart of energy in the morning, so I choose my foods accordingly." Teammate Lindsey Vonn's lunch usually consists of chicken or fish, rice, vegetables and nuts which are all great sources of protein to keep her energy high to maximize her performance.
The most calorically-demanding sport? Cross-country skiing requires consuming 8,000 calories a day, according to the New York Times. One Olympic skier, Martin Møller of Denmark, said he gets tired of eating. A typical Olympic skier will burn 30 calories a minute. The energy demands of the sport requires them to eat 2-3 times the calories of an average person. Møller has to work hard to fill his daily caloric needs. He starts the morning with fried eggs, oatmeal and beans, has a lunch of pasta with meat sauce, fried fish and salad, and a dinner of twice the size of that consumed by other members of his family. He also eats two pre-training meals, two small recovery meals, and a small meal before bed, which often include oatmeal, bread, cheese, honey, ham, sports drinks, cake or donuts.
Healthy food might not always be the answer for fueling athletes. Olympic medalist Chloe Kim spent a lot of time talking and tweeting about food during her weeks in Pyeongchang. She did not finish her breakfast sandwich the day she won gold and tweeted she was "hangry." Though probably not a strategy that a sports nutritionist would recommend, she claimed eating two churros helped her nervousness. After winning her Olympic victory, celebrity chef David Chang made her ice cream-filled churros to celebrate.
For an athlete, nutrition is an important part of good health and performance. Top athletes need to fuel their bodies to be able to compete at their top level.  Sports nutritionists help make certain athletes are eating the right combinations of food to stay healthy and fit.
About the Contributors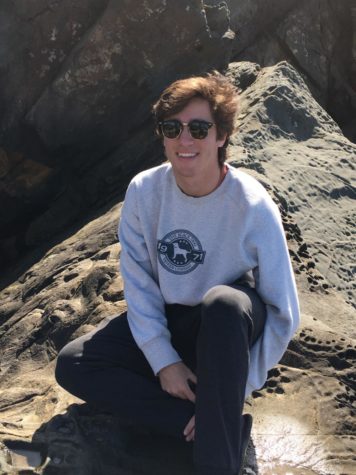 Andrew Gray, Staff Writer
Hi, I'm Andrew and I'm a member of the Wildezine. I enjoy writing about sports journalism.