My House Was Wrapped in UCLA Toilet Paper Three Times During April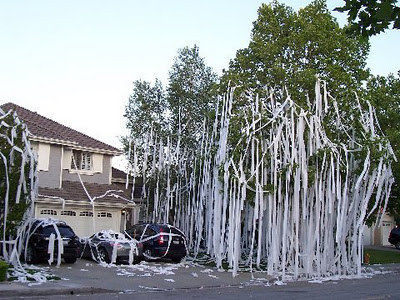 Hang on for a minute...we're trying to find some more stories you might like.
Another round of SAT/ACT tests are quickly approaching, and students are gearing up by taking prep courses and practice tests. This is also a very stressful time for parents, who begin the journey of valuing their children only through a series of achievements that will be told to coworkers and bored relatives for the rest of their lives.
With colleges becoming more selective and expensive, parents are going to previously unheard of lengths to get their children into family-approved schools. Attempts include summoning demons or spirits through blood sacrifices, or trying to invoke favors from supposedly benevolent, albeit sleeping, ancient gods. This year seems to be producing more ritualistic acts than usual, with local law enforcement officials reporting that rates of ancient pagan offering sites and known blood rituals have increased by over 38 percent from last year. Seppuku, the traditional samurai form of suicide, has also been adopted by the majority of families, should their child be waitlisted for a school, seen by many as a shameful fate deserving of death.
But the journey doesn't stop there. Once the animalistic sacrifices have hopefully yielded the intended results, parents have been known to resort to seemingly juvenile acts, including taunting other parents with derogatory rhymes, such as "Berkeley, Berkeley,   USA, because we can afford to pay" and "NYU, Freshman class, Community college can kiss my…". Parents have also been reported to wrap neighbors houses with toilet paper printed with the emblem of a school to which their child was admitted (no one quite knows where they procure such toilet paper) or spray paint incredibly detailed replicas of acceptance letters on the sides of houses.
While there are many resources for students seeking help during the college process, there are considerably fewer for parents, resulting in the formation of the CTHFP (College Therapy Hotline for Parents), the AAFTPORMASBOP (American Association For The Prevention Of Ritualistic Murders And Sacrifices By Overbearing Parents), as well as the creation of the "College" sub-division of the homicide and special-victims units in most metropolitan police forces.