Upper School Coffeehouse- Arts that Inspire Community Connection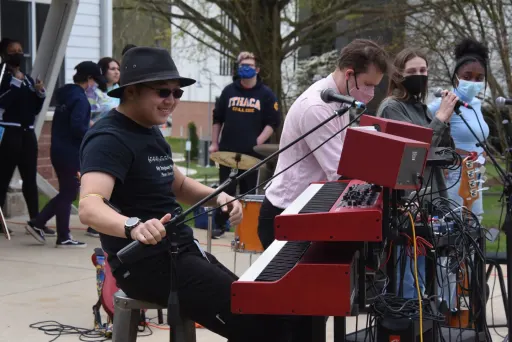 As the 2021-2022 school year comes to a close, spirits are high as the upper school buzzes with excitement. The lost and found hoodies are now being replaced by lost water bottles as the warm weather brings warm energy to campus. Springtime is also the host of many creative projects and presentations in the upper school, including the musical, dance performance, and the end of the year assembly. This is also the first year in which our Speech and Debate Team will be competing at the national level on May 28 (be sure to wish them luck)! 
Despite the dynamic experiences encompassed in this past school year, including mask mandates and distancing, to optional masking and Covid-19 scares, there have been a handful of experiences that provided glimpses into what life was like at SSFS pre-pandemic. One of these cherished moments was a new tradition started in the fall by Keith Adams and Julie Borsetti: the Upper School Coffeehouse. If you happened to walk by the PAC on Thursday, April 21, you would have seen a drum set, keyboard, some mics, guitars, and other instruments patiently waiting for their performers. Of these spectacular performances there were poetry readings, songs, art presentations, and monologues. Performers from all grades, including a faculty performer, history teacher Allison Chang, participated in the event. Some brilliant presentations included that of sophomore Julia May singing "Modern Loneliness" by Lauv, junior Mateo Traini presenting original music with house track "El Baile," Senior Keletso Rosenberg performing a monologue from the play Topdog/Underdog by Suzan-Lori Parks, and freshman Cody Xu presenting his hand made Chinese fan painting!
As folks shared their talents and stories, the faculty and students attentively enjoyed these performances from the grass. The coffee, hot chocolate, and snacks also contributed to this sweet community gathering. In a community often brought together through silence, being united by explosive music and art was magnificent! The community's pride was evident on the shining faces of new and returning students alike. It is perhaps SSFS moments like this that seniors will hold dear as they graduate- sitting in the grass with their friends, hot chocolate in hand, cheering on their talented peers.