Is Tiktok Actually Safe for LGBTQ+ Teens?
Tiktok is a social media app that has quickly gained popularity within the past year from teenagers, parents, businesses, and even educators. Videos from this app can be found on all platforms, including the official SSFS instagram. On November 14, 2019, Sensor Tower reported that Tiktok had over 1.5 billion downloads on the App Store and Google Play. Downloads are worldwide, with many users based in America and China. With such a large platform, it's expected that many different types of people use this service. According to the Global Web Index, 43% of Tiktokers based outside of China are from the ages of 16 to 24. This means that many Tiktok users are teenagers or young adults, and may be easily influenced by the media they consume. Technically, users must be under the age of 13, according to Tiktok's Terms of Service.  Still, this policy is hard to enforce, and those under the age of 13 sometimes also use the app. With these details in mind, it's important to consider how the use of this app may impact LGBTQ+ youth. 
The first idea to consider is how well-regulated the app's policies are and who might take responsibility for a teenager hurt by anti-LGBTQ+ ideas on Tiktok. Tiktok's Terms of Service says that one using the app cannot upload "any material which is defamatory of any person, obscene, offensive, pornographic, hateful or inflammatory". While this is great news for someone concerned about the safety of Tiktok users, it's a fairly subjective statement. As with many issues, some might interpret anti-LGBTQ+ content as inflammatory, and some might interpret it as somebody expressing a political or religious belief. Thankfully, the Terms of Service give even further limitations, where uploading content to "intimidate or harass another, or promote sexually explicit material, violence or discrimination based on race, sex, religion, nationality, disability, sexual orientation or age" is not allowed. With so many users, though, it's nearly impossible to regulate all negative speech on the app. While many point out that parents could help mediate this issue, many parents don't actually know about their childrens' usage of the app. This leads to another question: Are the discussions about LGBTQ+ matters really safe for teenagers to be a part of?
The hope is that, yes, teenagers are safe to discuss these matters on the app. However, negative discussions may have a significant impact on the mental health of an already at-risk group. According to the National Alliance on Mental Illness (NAMI), LGBTQ+ high school students are "almost five times as likely to attempt suicide compared to their heterosexual peers". This means that much of LGBTQ+ teenagers are at high risk for struggling with mental illness, and it's no secret that cyberbullying can be a major factor. User @damonmalaska2 created a video with the in-video caption of "The rate for Gay suicide has increased 50% in 2020" along with the line "we're halfway there" as background music from Bon Jovi's "Livin' On A Prayer". While this video is extremely harmful, this level of homophobia is not typical of users on the app. Most users face less direct homophobia, such as sexualization of minors or extreme criticism of relationships.
This is also shown in a variety of comments on videos by LGBTQ+ users or in support for the community. On a video with user @chelseaisgay and her partner, the comments can range from "why would you post this" to "Not normal". The good thing is that this video also got a lot of support, with comments such as "Awwww couple goals" and "Yes. I have never stanned something so much." This is also seen with larger influencers, such as @benjikrol, with 7 million followers and @jeyjeygardi with 3.8 million followers. They were incredibly popular last summer, with videos of their relationship almost always going viral. Those who weren't part of the LGBTQ+ community supported their relationship the same way they would a heterosexual couple. These two users are the only popular LGBTQ+ Tiktok users. Users @ian.avery, @hadleyclairee, @maihualee, and @averycyrus are among the popular LGBTQ+ influencers. Both @ian.avery and @hadleyclairee have been in relationships that the public has adored similarly to Benji and Jorge. User @allisonxbeck, who identifies as a trans woman, has 475+ thousand followers on the app. She often speaks about her experiences as a trans woman in her videos, as well as upbeat dance videos. She has opened up about the hate comments she receives on the app, such as "we want to know your boy name", "what do you have down there?" and "you'd be hot if you weren't trans". 
With so many LGBTQ+ influencers, it's no wonder that there's good exposure to the community on Tiktok. Videos with "#gay" in the caption have seen 4.8 billion views, with "#trans", 2 billion views, and "#lgbtq" has 2.4 billion. This means that LGBTQ+ teenagers who don't see themselves in their community or in the media can watch and communicate with those in their community. This opens many discussions within the community, but not every one of them is appropriate for minors to be involved in. For example, the over-sexualization of the community has spread to Tiktok as well. In a video involving previously mentioned influencers Benji and Jorge, the comments get into somewhat intimate details of their sexual life. While these comments aren't necessarily negative, they point to a larger issue that the community has been facing for years. LGBTQ+ people face a lot of sexual comments that heterosexual and cisgender people often would not. This is negative both because of the sexualization of the user, but also because of young users who may see this content and feel pressure to identify with sexually-based labels.
With all of these facts in mind, it's still difficult to make a decision on whether or not LGBTQ+ youth should be using Tiktok as a platform to talk about all LGBTQ+ matters. It is up to the individual to decide if they want to risk the benefits of the app to attain the benefits that come from being a part of the LGBTQ+ community on Tiktok. In moderation and with careful behavior, it can be safe for some teenagers, but might be dangerous for others. The real question is if society is at a point that LGBTQ+ teenagers can be safe on a large platform, or if we are not ready to let homophobia and transphobia go yet. 
About the Contributor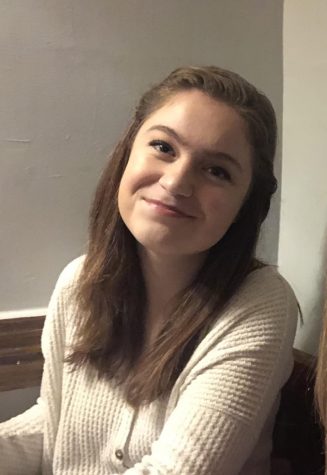 Gillian Stingley, Staff Writer
Hello! I am Gillian Stingley and I'm a sophomore this year at Sandy Spring Friends School. This is my second year as a staff writer for the Wildezine and...