Red Rover, Red Rover, Send Opportunity Right Over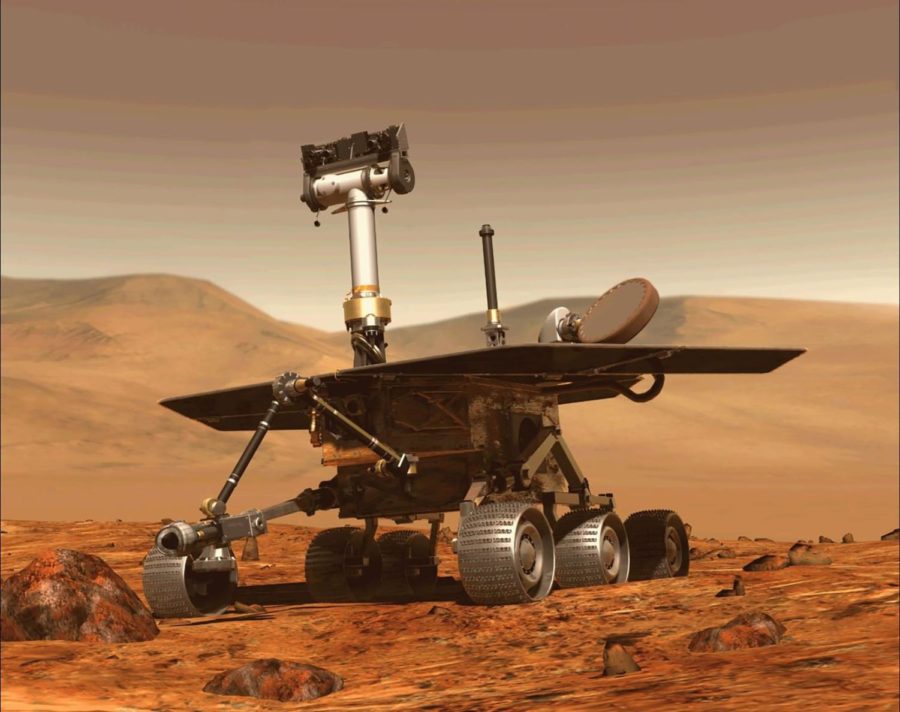 After about fifteen years, a complex machine contributed to answering one of the most brain-wracking questions astronomers have asked: Is there life on planets other than our own? Water is one of the key elements that can sow the seeds of life. Life on other planets can be achieved by evolving from water as microorganisms, but are there any planets nearby that can, or were able to, sustain it in the past?  Well, a certain rover named "Opportunity" was given the task to explore our planetary neighbor, Mars, and one could say, the rover blew our expectations out of the water.
According to NASA's Jet Propulsion Laboratory, the Mars Exploration Program consisted of two rovers to be sent out to investigate Mars and signs of extraterrestrial life in the past. Spirit and Opportunity are considered the "Wonder Twins" of Mars. Launched in July 7, 2003, Opportunity, nicknamed "Oppy", landed on the red planet on January 25th, 2004, thus starting its journey to test the waters of Mars, and explore the barren planet for any glimmer of life. Originally, the rover was only granted a schedule of 90 days to complete the mission, but the rover withstood the allotted time frame to give us many discoveries that proved beneficial to us about Mars.
One of the discoveries made by Oppy was substantial evidence that Mars had harbored water in the past. Which meant, for us, conditions that were possible for sustaining, at least, microbial life for the duration of billions of years. A quote from the New York Times says: "As it moved across the surface, Opportunity provided an up-close view of Mars that scientists had never seen: fine layers of rock that preserved ripples of flowing water, a prerequisite for life, from several billion years ago." As the oldest and the longest running rover ever created to land on another planet, Opportunity exceeded everyone's expectations. As it collected data on the surface, it was pioneering a new way to examine other planets. As a rover would prove more mobile, this allowed scientists to explore other areas that are more interesting to study.
In June, 2018, Opportunity found itself dead in the water when a planet-wide dust storm covered the rover, causing the communication to be cut short. On February 13, 2019, engineers from the Space Flight Operations Facility at NASA's Jet Propulsion Laboratory (JPL) described attempts to bring it back to life. But alas, this attempt was made in vain. The final communication received from Opportunity was on June 10th, 2018, and it said: "My battery is low and it's getting dark."
Opportunity has changed the course of history, as it shed light on many important discoveries from beyond our planet. We owe our thanks to this rover, and come hell or high water, we will forever keep Oppy in our hearts as the rover that opened the door to discovering extraterrestrial life.
Sources:
https://www.jpl.nasa.gov/missions/mars-exploration-rover-opportunity-mer/
https://mars.nasa.gov/mer/mission/overview/
https://www.space.com/24397-mars-rovers-spirit-opportunity-best-discoveries-ray-arvidson.html
https://www.nytimes.com/2019/02/13/science/mars-opportunity-rover-dead.html