The "Starving Artist" Dilemma
Hang on for a minute...we're trying to find some more stories you might like.
At Sandy Spring Friends School, we take pride in preparing students for college. Through AP classes, standardized testing, and rigorous academics, students often feel prepared to pursue academics at college and careers after graduating SSFS. But what happens if you decide to take an alternative route and pursue art? What happens when your college and career goals start to look very different in comparison to your peers but you're still at a college preparatory school?
To answer these questions, I sat down with Wes Livezey, a senior at SSFS who will be attending Alfred University in the fall to study ceramics and conceptual sculpture. "I think that my projects in art classes are sometimes deemed less important, and some of my academic teachers don't recognize that as a crucial way for me to spend my time," he said. "It's viewed as an extracurricular, and a 'fun' class, where in reality it's just as much work, if not more."
When asked if he has experienced any stigma or criticism surrounding his choice to pursue a less accepted career, Wes touched on the bittersweet reactions that he has received: "When I tell people what I want to do, there's that element of 'That's so cool!' and 'You're not gonna make any money.' With art, I think that some people separate your major with what you plan to do in life, as if it cannot be the same. People often assume that I'm going to have to find another source of income, which I probably will, but to assume failure before I've really started my career isn't the most encouraging thing." This dilemma of financially stability has followed Wes since he was young. "When I was in 2nd grade, my teacher asked us what we wanted to be when we grow up, and when it was my turn, I said that I wanted to be an artist. My teacher laughed and said 'That's nice. You might want to find something that makes more money.'"
Perhaps this pressure to pursue an academic career to ensure financial success is the reason that some people are judgemental towards others pursuing their passion for art. The reality is: some people want to do what they truly love, an artform or a non-academic passion, and are simply too scared of failure.
As a dancer, I often feel disconnected from students around me when conversations surrounding college arise. I plan to major in dance; some of the art schools that I dream of attending do not require test scores, and some do not even offer science and math programs. Nevertheless, it is hard not to still feel the pressure of grades, test scores, and academic success. After receiving scores on the ACT and PSAT that I was not happy with, I continuously had to remind myself that these numbers are not scores of my worth, my knowledge, or my future success. My goals for the future look a lot different than others who might strive for a perfect SAT score. Wes keeps this in mind as well, and has learned to relieve this pressure: "I think that SSFS is interesting in that there are two 'cultures' within the school. There's the faculty and students who are trying to pursue what they love, and this is a place that will nurture that. And there are the people who are trying to pursue success, wherever they can find that. The people who prioritize success over personal fulfillment put a lot of stress on test scores and standardized testing. But when you switch your mindset to prioritizing personal fulfillment, success starts to look different than a test score."
No matter the stigma or the pressure that society puts on students, we as artists value our art more than anything. As Wes says, "Someone once told me that the only reason a person should pursue art, is if they can't see themselves happily doing anything else. I can't see myself being happy without creating art and sharing that with the world." I couldn't agree more. While the risk of financially instability remains frightening, I have found so much happiness and purpose in dance, that I cannot imagine dedicating my life to anything else. All in all, I strive to appreciate my access to education here at SSFS, while embracing my artistic goals, which may differ from those around me.

About the Writer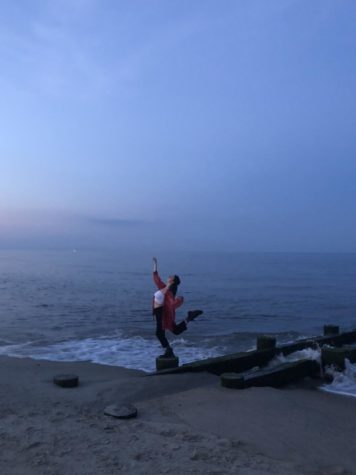 Maeve Friedman, Editor
Hellloooo

I'm Maeve Friedman and I am a senior at SSFS. I serve as a Wildezine staff writer and pop culture editor. Language and creative writing have...