Earth Stewardship Day: Takeaways
Under a sunny Thursday morning sky, students, many clad in work-gloves, checked in with advisories or classes upon arrival on campus. Shortly thereafter, they departed to an all-school morning assembly. The whole of the PAC buzzed vibrantly, only quieting down as this year's Clerk Serena Faruqee, '16, welcomed us all to Earth Stewardship Day. Following a few words by the next speaker, Headmaster Tom Gibian, speaker and biker Dr. David Goodrich, joined us with his talk on his three-month cross country bike expedition, as he "documented signs of climate change across the country."
The day wouldn't be complete without getting our hands dirty, however. Service had some groups off campus planting and weeding at Blueberry Farms, and others building fences on land SSFS is currently leasing to expand our on-campus* farm. Transitioning into info sessions, some classes did the SSFS Eco Tour, others with Climate Change workshops, and still others in an interactive program with live reptiles, To close the day, the school gathered again for another assembly, this time with an original book reading by MS student authors.
But what happens once the day is over? Saving energy, taking shorter showers and riding cars less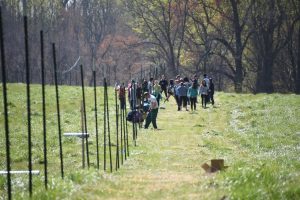 too often turn out like failed New Year's resolutions. What would it take to make Earth Stewardship Day not just something we do once per year but an everyday practice? If the goal of Earth Stewardship Day is ultimately to do our part in making our campus and our world a better place, is that not an ideal we should try to uphold year round?
According to David Hickson in an SSFS Blog post, it is only through "picking up a stray wrapper, or pulling a weed" that the SSFS community will bring Earth Stewardship Day to full fruition. Small steps like those have been made easy to do on campus every day. You might say: But it's just one empty bottle. Come on, there are more important things to be doing. Seriously, though. It's hard to always hold ourselves to such glorious moral standards, especially when the exact reason for why might not be clear then, or when we don't see immediate outcomes as results of our righteous actions, or ever.
It's in keeping our campus clean, building new fences for produce that we can consume, and composting* that we are receiving positive direct results with a beautiful, welcoming campus, utilizing the land we have available to reduce our intake of commercially-made/harvested products, and also using the compost.
*Friends, can we all have a moment of silence to appreciate the composting program at SSFS? Honestly, we are actively and in a huge way, making a difference. With composting, we are drastically shrinking our carbon footprint which is caused in large part by the trash that goes to landfills or incinerators, both of which send toxic chemicals and gases into our atmosphere which go to the ozone layer and help create the phenomenon we know as global warming, which is why there are rising sea levels, increasingly acidic oceans, increasing severe weather and higher temperatures, all of which will have an affect on global economies and countries and coasts everywhere and basically, the world. Put it simply: composting is good.
It's our responsibility, individually and collectively to improve every day, in regards to Earth Stewardship. Little things add up. It's not 'just one empty bottle.' Had the composting program not started, every day would be a 'just one uneaten plate of food,' and now as a community, look how far we've come. Though every year we set aside a day to remind ourselves of this, that day needs to be every day.