Fiddler on the Roof: Community Play 2016
Every September, members of Sandy Spring Friends School (SSFS) eagerly await the announcement of the Community Play, a tradition unique to SSFS introduced by former US Drama teacher Bruce Evans. It is a chance, as Community Play veteran Lynda Reese told me, to "just be a part of the whole community." Not only is it an opportunity to connect with Springers you've never met, from ages 6­ to 60, but also to be part of a meaningful production for actors and audience alike. A few plays from past years have included "Wiley and the Hairy Man", "A Midsummer Night's Dream", and most recently, "Quakers, Free Thy Slaves". This year, community members were excited to hear that 2016's Community Play will be "Fiddler on the Roof".
The book, written by Joseph Stein, was set around the year 1905. It tells the tale of Tevye, a poor milkman living in the Jewish village of Anatevka in Imperial Russia. The story is about Tevye's endeavor to hold on to cultural customs while newfangled ideas take root and grow in his household. Whilst struggling to accept the unorthodox marriages of his three eldest daughters, he also lives with not only the constant threat of the Russians, but also, of the imminent eviction of his community from Anatevka. The musical rendition was set to music by Jerry Bock with lyrics by Sheldon Harnick.
Over the past month, I have had the chance to interview cast members during their weekend rehearsals. Middle ­school trio Jade, Riley, and Rebecca were telling me that the best part of being daughters in the chorus is being able to sing and dance together on stage. "You really get to meet a lot of new people. There's definitely a sense of community," one mentioned.
While talking with Judith Lowe, a former US Spanish teacher, I was reminded of how the play brings together such brilliantly talented people. "The choreography by Hannah [Kerr] is absolutely amazing," she noted. "Every dance, I'm amazed." Judith plays a Mama in the Chorus.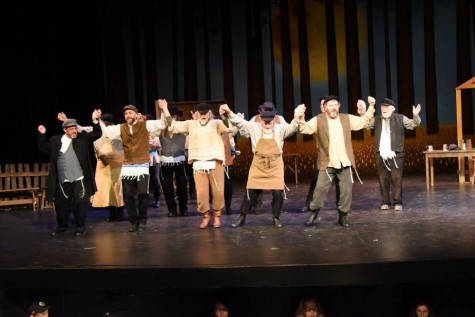 This is my first year here at SSFS and, consequently my first Community Play, but I was in good company with Michael, a US parent who plays Avram, the bookseller. Although this is also his first Community Play, he's acted in several faculty plays at Westtown School. "You really feel a stronger connection to families here," he remarked. "It's definitely affirming to participate with all these talented people to contribute to this play."
If there is one part in the Community Play I've gained the most from, it would hands down be the community. Echoing so many others, I've come to see how meaningful and instrumental the play has been in bonding community members over generations and making those newer to the school feel right at home. In realizing why it's so exciting to hear the announcement of the play each September, I'm reminded of how lucky and proud I am to be a Springer.
Fiddler on the Roof was performed Thursday, Friday, and Saturday at 7:15 pm and Sunday at 2:30 pm in the Performing Arts Center.