Summer Walker and Mental Health in African American Women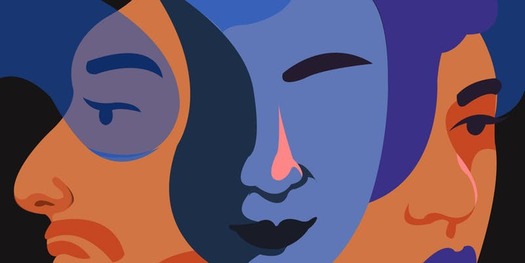 Recently, mental health has become a heavily discussed topic in social media. Open and honest dialogue has brought awareness that has been very beneficial for society. However, when you take a closer look, you realize that the discussions held are often centered around issues concerning White Americans. Little do we hear or even talk about mental health in the Black community, specifically mental health in Black women. 
On October 25th, 2019, NPR Music's Youtube channel released Summer Walker's Tiny Desk Concert. Tiny Desk Concert is a web-series that showcases up-and-coming artists in the music industry. Summer Walker, a black female R&B singer, addressed her nervous excitement, "Look I'm very excited to be here, but I have social anxiety…so yeah. I'm freaked the hell out. I'm sweating. But this is so exciting for me." Unfortunately, Walker's disclaimer didn't stop viewers from attacking her, with many viewing her performance as disrespectful and a disservice to the art form that is R&B. "Summer Walker's attitude is ridiculous…I understand she doesn't like the fame but you took that chance when you wanted to become a singer. Fix your face," one viewer commented.
This isn't the first time that Walker has opened up about her social anxiety. In an Instagram post that was later deleted, Walker opened up about her social anxiety and what she goes through in her everyday life: "It affects your occupational performance,…romantic relationships, friendships (which I have none), and pretty much throws you into depression.This ain't a sob story, just a lot of people don't know me so they take me as being rude or difficult to [get] close to." 
Last October, Walker became the target of many critics after her acceptance speech at the 2019 Soul Train Awards. In an interview, Walker states that she didn't even want to be seen at the award show and was trying to keep a low profile: "When I got there I dodged the red carpet and tried to get escorted through the back…I had to keep sneaking to pat my underarms from sweating…I kept my arms folded and tried not to be seen." Although Walker had been transparent about her social anxiety several times, she was again criticized for being ungrateful and very awkward, and even made fun of for the way she gave her acceptance speech. Why was Walker under such severe scrutiny? 
Pursuing a career in music means that musicians are forced to be more visible and transparent with their fans. Additionally, fans sometimes fail to respect the privacy of these musicians. Instead of understanding, they demand constant vulnerability and transparency from this public figure, which can't possibly be delivered in the ways expected of them. Walker's case of also being a woman of color is a major factor in the dismissal and scrutiny of mental health in African American women. 
However, during Walker's controversy, many celebrities chimed in and came to Walker's defense. Nikyatu Jusu, a filmmaker, expressed her support for the R&B singer but also took time to compare the ways in which the media responds to white female artists and black female artists when it comes to the topic of mental health: "We [Black women] are not allowed to be meek, anxious, subdued…I just rarely see the default projection of 'attitude' placed on lethargic white/white proximal singers." The media is much more forgiving to white female celebrities, like Billie Eilish and Lorde, who have both been very open about their struggles with mental illness, and have only ever received support. In comparison, black female celebrities have only ever been met with scrutiny. Other female singers like Lauryn Hill, Nina Simone, and Azealia Banks have come under fire for their 'attitudes', when in reality they, along with Summer Walker, have been affected by mental illness.
The current discourse about mental health does not always recognize the implications of mental health in Black and African American women specifically. Mental health is talked about very broadly, which makes it hard to understand how different groups are affected by it. John Hopkins Medicine reports that women are twice as likely to experience an episode of major depression, but African American women are half as likely to seek help. According to the Health and Human Services Office of Minority Health, African Americans are 10% more likely to experience serious psychological distress. This psychological distress is a result of challenges and needs that haven't been fulfilled. 
The National Alliance on Mental Illness, or NAMI, reports that psychological distress in African American women is attributed to societal and cultural beliefs held in the Black community and outside of it. Often in the Black community, women are viewed as pillars that hold the community up, very strong, not allowing anything to faze them. Outside the Black community, Black women are ridiculed, deemed as always having attitudes, and are very often overlooked. Problems are considered less important than those of White women. Obviously, always being held to these standards is going to strain you mentally. 
It's important to realize that although we are open to having honest conversations about mental health, we don't always think of the implications of mental health and its effect on different groups, and what those effects look like from a societal viewpoint. It's important to have discussions about mental health and its effects in marginalized communities.